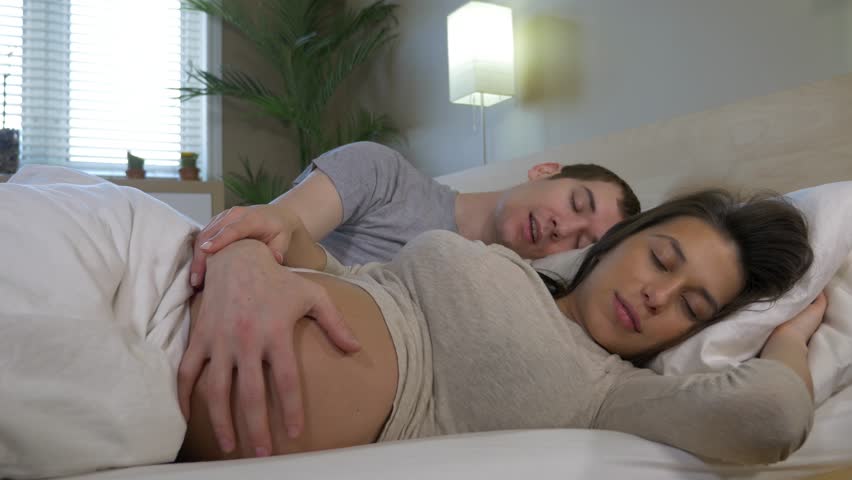 Many women report that they snore more loudly or frequently during pregnancy, and some women who don't usually snore begin to do so while pregnant. This is especially common in the third trimester, and it occurs for a few different reasons.
Sometimes, the tongue, soft palate, and uvula collapse while you're sleeping and partially cover the airway. This results in the back of the mouth vibrating against the airway, which causes you to snore. Some people are naturally more likely to snore than others, but if you're pregnant, you may be at an increased risk of developing a sleep-disordered breathing problem.
The most common reasons you might snore while pregnant include:
Weight Gain
It's natural and essential for you to gain weight while pregnant. However, the extra weight does put more pressure on your neck, which could cause the back of your mouth to collapse over the airway. Excess weight is one of the most common reasons people snore, and unfortunately, weight gain while pregnant is no exception.
Rates of sleep-disordered breathing in pregnant women have increased in the past 20 to 30 years. This may be because more women now are overweight when they become pregnant, or they gain excessive weight while pregnant. Weight gain is necessary and inevitable, but it is definitely linked to sleep-disordered breathing.
Your doctor should give you a recommendation for how much weight you should gain. To avoid breathing problems, try not to gain more than the recommended amount.
Increased Blood Volume
Blood volume increases by about 50 percent when you're pregnant. It starts increasing notably in the second and third trimesters and reaches its maximum at 34 to 36 weeks. If your sleep-disordered breathing problem becomes the most severe around this time, it may be due to increased blood volume.
Your blood vessels expand to accommodate the extra blood. This happens throughout the entire body, but it can cause the nasal membranes to swell up, which might make it difficult to breathe. Swollen nasal membranes are closely linked to sleep-disordered breathing, even in people who aren't pregnant.
Hormone Changes
Changes in hormone levels can also contribute to nasal swelling. Estrogen levels rise during pregnancy, which can cause the mucous membranes to swell. Increased estrogen levels can also cause congestion, which might make you breathe through your mouth instead of your nose while you sleep. Breathing through your mouth increases the chance that you will snore.
Gestational Diabetes
In some cases, sleep-disordered breathing is a sign of gestational diabetes, a condition that prevents insulin from regulating your blood sugar levels. Untreated gestational diabetes can affect the baby's health, but it is easily managed.
Researchers from Northwestern University found that women who snore more while pregnant have a 14.4 percent chance of developing gestational diabetes, but women who don't snore only have a 3.3 percent chance. It's unclear why there is a relationship between sleep-disordered breathing and gestational diabetes, though.
Sleep Disorders
You may have started to snore more frequently while pregnant, but the cause could be something unrelated. Many people who snore have sleep apnea, a disorder that causes you to temporarily stop breathing while you sleep. This condition can cause a variety of uncomfortable symptoms and can take a serious toll on your health, so it's important to speak with your doctor if you think you may have it.
Is snoring harmful during pregnancy?
Occasional bouts of sleep-disordered breathing probably aren't a problem, but habitual snorers are at a greater risk of developing high blood pressure, cardiovascular disease, and other issues.
According to a study from the University of Michigan, pregnant snorers may also be at a greater risk of complications than non-snorers. The study involved 1,673 pregnant women. About 35 percent of the participants reported that they were habitual snorers. The women who snored three or more times per night were twice as likely to have C-section births. Their babies were also much more likely to have low birth weights.
Is it possible to stop snoring?
If you snore habitually, speak to your doctor to make sure that it won't be an issue. Figuring out the cause of your sleep-disordered breathing is the first step to managing the problem. In many cases, there's an easy solution.
Try sleeping on your side instead of on your back. Sleeping on your back increases the chance that your soft palate and tongue will obstruct the airway, but sleeping on your side takes some pressure off of your neck. Elevating your head with extra pillows can be effective, too. If you snore because your nasal passages are swollen or congested, using a humidifier may help.