After the kitchen, the bathroom is probably the most expensive room in the home to fix up. A quick look online will show you exactly how much some people pay for their bathrooms, Are you in a budget and is looking to have small bathroom renovations? Then you must find a bathroom remodeling services company that can help you with lots of bathroom ideas such has lighting, color, height, reflectivity and many more.
But the honest truth is that you don't need to splash out on a rain shower to make your bathroom look the part, with a frameless shower door or any of those high quality shower doors you will notice the difference. Look for some shell stone tile or marble flooring to have an stylish bathroom floor. If your renovation would affect the bathroom's plumbing system, make sure to hire a plumbing services company to help make the necessary adjustments.
Take our bathroom, as the perfect example – it looked awful when we moved in, but I think we managed to do a pretty good job in the end. We also consider using an odor eliminator like toilet drops that has a clean, refreshing scents. With creative bathroom remodeling ideas– and a lot of hard work – you can turn the tiniest of dingy bathrooms into a beautiful place to relax.
Here's a few tips that helped us improve our bathroom's look by a significant amount.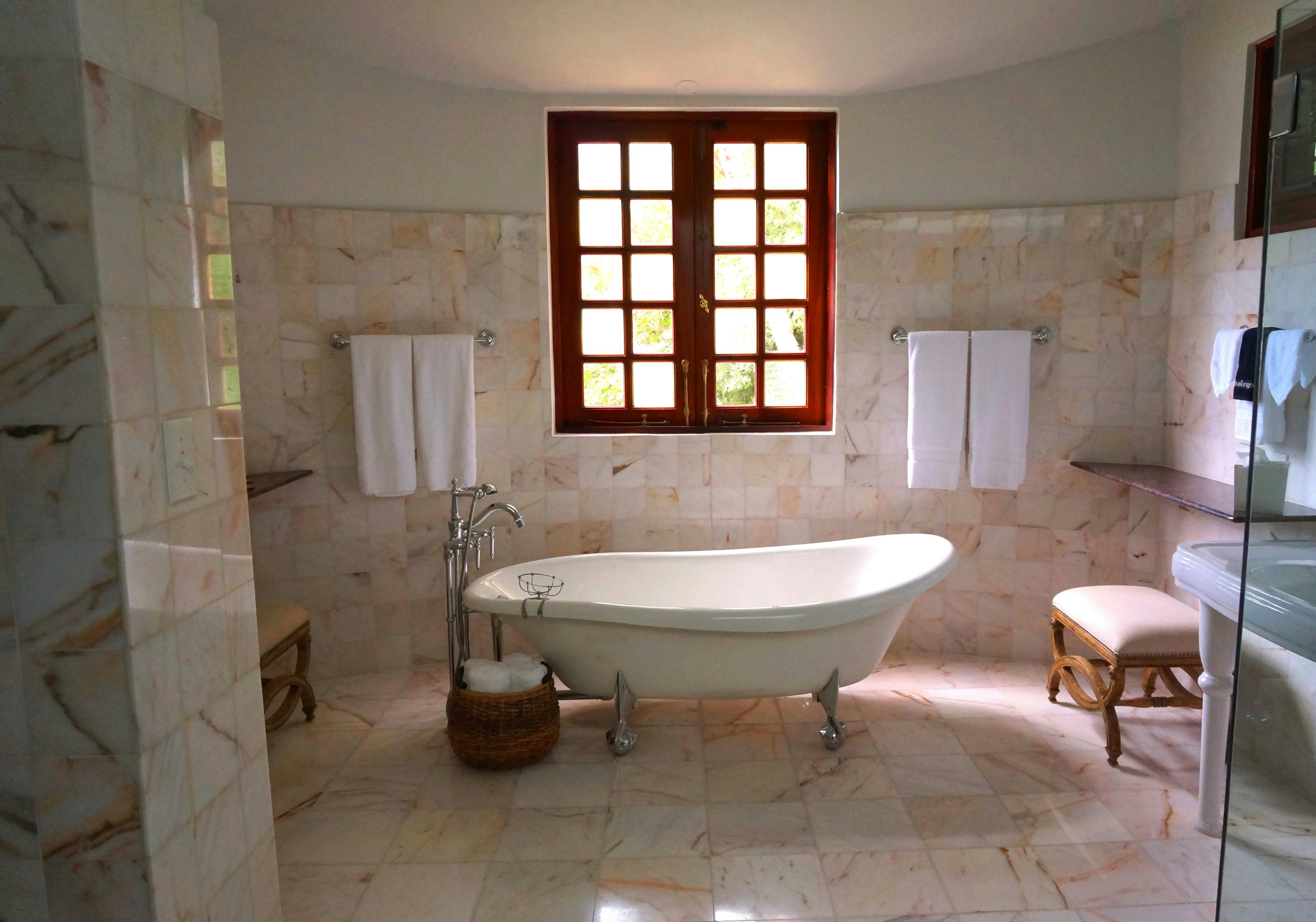 Storage and Containers
You never see a plush, expensive bathroom full of clutter. So the first step is to ensure you have plenty of containers and cupboard space to put everything away when it isn't in use. You could even go down the traditional route of keeping things in large glass jars or ceramic jugs rather than plastics – just keep them well out of the way of the kids!
A beautiful bathmat
You don't have to spend a lot on bathmats – when they are brand new, they always look great. But let's face it, in a busy household they tend to get pretty unkempt very quickly – and it has a serious impact on your bathroom. So, lose the Terry cloths and look for something a little more long-lasting. Persian or turkish rugs are a great substitute, and you don't have to go too wild on size, and you will still benefit from a more sophisticated look.
Swap out your taps
I think a lot of people would love to splurge on something like a freestanding bath. But the reality for most households is that they are far too expensive to justify, and most bathrooms don't have the room anyway. But you can make the most of your current tub by switching out the bath taps – and you can do the same for your sink, too. It makes such a difference to the style of the bathroom and is such a cheap way of getting an instant improvement.
Go big on mirrors and artwork
There are some spectacular and beautifully framed mirrors out there which you should invest in – they will give your bathroom and instant lift, no matter how dull or boring your tiles are. Look for best quality hollywood mirrors, HD Mirrors sell the best hollywood and illuminated led mirrors available on the market. You can also hang artwork or pictures – just make sure they are framed nice and tightly, so they don't suffer from moisture leaking in. It adds a little personalisation to the bathroom, too, which, ultimately, is what separates a great bathroom from a standard one.
Improve the lighting
One final and easy fix for you is to include new lighting in your bath remodel. Try using spotlights in the bathroom, and you can even pick up chandeliers these days for a reasonable price – or create one yourself.
Set up some dimmer switches so that you can dim the lights for a nice, relaxing bath and you will enjoy your bathroom even more or simply add a yellow light fixture. Any thoughts to add? Let me know in the comments section!
If you are in Australia and is looking for bathroom renovators in Brisbane then Shane Rolfe Plumbing is one company you need to check out. With over 20 years of experience in bathroom, kitchen and laundry renovation you can't go wrong with them.