I love a good gift experience and I love a good competition so I decided today that I would share an awesome competition that I've come across this week. Into The Blue, a company that sells gift experiences, have a fun competition running to basically suggest your dream experience. Whether it be to abseil down the Empire States building, to appear in a West End show or even to explore space looking for a Deathstar – they want to hear your ideas!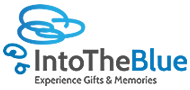 The competition is called Impossible Experiences and entering is really easy. The prize is a £200 gift voucher to spend with Into the Blue, on buying a gift experience of your choice.
So what do you need to do? First imagine that money is no object, then let your imagination go wild. It doesn't really matter about the practicalities, or even if its not that realistic – that's sort of the point! The competition is called Impossible Experiences, after all. Once you have an idea – head to Twitter or Facebook. Write a post with your idea and tag is #impossibleexperiences. Entrances must be in by February 29th in order to qualify and all entries will appear on Into the Blue's social wall. The are looking for the best and most creative and innovative ideas, so get your thinking caps on and send them your ideas! More information can be found on their blog, along with some ideas too.